WEBN Fireworks Cincinnati Photos
Check out some of the WEBN Fireworks Cincinnati photos we have done for the last 10 years. Let us know if you would like us to photograph your next event here in the Cincinnati tri-state area.
Q: What are the Western & Southern WEBN Fireworks Cincinnati?
A: A fireworks display featuring Rozzi's Famous Fireworks live on the river, they are the thrilling climax to Riverfest sponsored by Western & Southern.
Q: What is Riverfest?
A: It's a full day of excitement for everyone! Performers of all kinds will appear at entertainment areas on both sides of the Ohio River. Family fun and lots of food and beverages will be available in all directions, capped off with the Western & Southern / WEBN Fireworks at 9:05PM
Q: How many years has this been going on?
A: This is our 40th fireworks show
WEBN Fireworks Cincinnati Date/Time:
Q: When do the Western & Southern/WEBN Fireworks take place?
A: Riverfest kicks off Sunday, September 4th from 12PM until 10PM, and Fireworks will begin at 9:05PM.
WEBN Fireworks Cincinnati Cost:
Q: How much does it cost to get in?
A: Nothing, it's free!
WEBN Fireworks Cincinnati Weather:
Q: Will it still take place if it rains?
A: Yes! We will do everything in our power to make the show go on!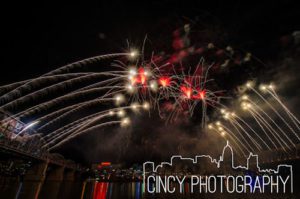 WEBN Fireworks Cincinnati On-Site:
Q: Are there going to be any live bands this year?
A: Yes, see "Entertainment" link for more information. Entertainment will be starting at 12noon on the Pavilion stage. The Live WEBN Broadcast and Ignition Control for Western & Southern / WEBN Fireworks will start at 12noon on the Serpentine Wall.
Q: Are there going to be food and drinks sold?
A: Yes, there will be food, soft drinks, and water sold on site
Q: Can I bring my own beer?
A: No, this is an alcohol free event. All items will be checked at the entrances.
Q: Are fold-up chairs and blankets allowed?
A: Blankets are allowed, chairs allowed in designated areas after 7pm
Q: When can I place my blanket on the wall?
A: Blankets can be placed after 6AM on Saturday before the event, and the event officially opens to the public at 12noon on Sunday. Blankets are placed on a first come, first served basis. Event producers are not responsible for unattended blanket space.
Q: Where will the t-shirts be sold?
A: T-Shirts can be purchased at the event, at WEBN.com, and at local participating retail outlets.
Q: What can I bring with me and what should I leave at home?
A:
WEBN Fireworks Cincinnati Permitted Items:
-Strollers
-Diapers/Diaper Bags
-Purse sized umbrellas
-Sun block, sunscreen, sunglasses, etc.
-Bug spray
-Snacks for small children
-Folding chairs (in designated areas), blankets, etc.
-Cameras
-Radios (to listen to WEBN all day long)
-Earplugs
-Binoculars
Prohibited Items:
-Alcoholic beverages
-Illegal weapons, explosives of any kind
-Wheeled items: skateboards, bicycles, roller blades, etc.
-Laser Pointers/Laser Pens
-Glass bottles
-Coolers
-Liquids
-Pets (with exception of service dogs)
-Large umbrellas, chairs, etc.
-Drug paraphernalia, illegal substances, etc.
-Vending/ solicitation without WEBN approval
Q: Will there be road closings?
A: Yes! See the "Transportation and Street Closings" link for complete information
Parking/Transportation:
Q: Where do I park?
A: In nearby lots on Pete Rose Way, or around downtown Cincinnati. We suggest coming early, as it is on a first come, first served basis.
Q: Will there be transportation to the event so I don't have to park?
A: See the "Transportation" tab for complete details. We recommend that you take the bus to get there because traffic will be heavy. This page will have updated info closer to the event.
Disabled Parking:
There will be two locations at Riverfest that are suitable for disabled parking:
-The parking lot at Sawyer Point at the corner of Eggleston and Pete Rose Way
-The East Garage next to U.S. Bank Arena on Pete Rose Way
Disabled parking will be based on a first come, first served basis, and the number of spaces are limited. It is recommended that you arrive prior to 5PM, but spots are NOT guaranteed.
Disabled Viewing:
A dedicated area for disabled/handicapped viewing for the Western & Southern / WEBN Fireworks presented by Cincinnati Bell will be located next to Paddlewheel Park overlooking the Public Landing.
Safety:
Q: What if I get separated from my group?
A: Pick a meeting place ahead of time. There will be two Information Booths located at Riverfest. In addition, lost child assistance is available at the City of Cincinnati Fire Dept. command area in the north tunnel below the Purple People Bridge. Information booths will be located near entrances of both events.
Q: What do I do in case of an emergency?
A: Call 911 or there will be roaming police and fire units on site.
Safety is our number one concern, and we will have plenty of medical and security staff at all times. Whenever events draw large numbers of people, the opportunity for crime to occur increases significantly. Uniformed and non-uniformed police officers will be at Riverfest to assist everyone as needed. To assure that everyone enjoys this year's Riverfest, the police Division offers these crime prevention reminders:
-Park in a well-lit place and lock your vehicles
-Place all valuables out of sight or in the trunk of the car
-Don't carry purses unless it's absolutely necessary
-Do not display large amounts of money or jewelry
-Bring only items that are necessary for the event
-Don't leave personal property unattended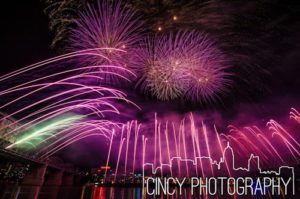 Click here to see more Cincinnati WEBN Fireworks photos
Email us at [email protected] if you need photos for an upcoming event or have any questions.
Return to CincyPhotography.com