Ohio Beer Wine Food Festival Photos
The Ohio Beer Wine Food Festival photos by CincyPhotography. Let us know if interested in having professional photos done for your next event.
The Beer, Wine and Food Festival will return for its 7th year and includes over 80 varieties of craft beer and wine to sample as well as an incredible variety of food.   Each night you can enjoy wonderful music including Three Day Rule and Zack Attack on Friday night and Wyoming's own The Bundys as well as The Tillers and Pete Dressman on Saturday night.  We are also excited to bring back the exquisite chalk artists who will create amazing masterpieces on the streets of Wyoming in vibrant chalk.  There will also be opportunities to have your children be a part of their own chalk masterpiece.    Proceeds benefit The Cure Starts Now Foundation, one of the only cancer foundations dedicated to a "homerun cure" for all cancers, starting first with one of the most deadly and difficult cancers: pediatric brain cancer.
Wyoming Ave will come alive with art, color and activity during theCure Starts Now's Beer Wine & Food Festival.
Teams of talented street painting artists will transform Wyoming Avenue into an outdoor museum. Artists will create large scale reproduction of famous works of art directly on the street using specially hand-made pastels. These art pieces can last up to three months depending on weather and traffic.
Children will also be given an opportunity to create their own masterpiece on the street. Children who participate will receive a free Graeter's Chip Wheelies while supplies last.
Please come and watch as the art is being created and Wyoming Avenue becomes a museum of the street.
The Cure Starts Now's history is rooted in the arts. When the founders of Cure Starts Now's daughter Elena was diagnosed with terminal brain cancer, her outlet became drawing. Her painting "I Love You" was installed in the Cincinnati Art Museum beside her hero Pablo Picasso. That very painting became the charity's very first fundraiser and now serves as the inspiration to The Cure Starts Now Logo. The Cure Starts Now is so proud to bring art back into the charity's events through this street chalk art exhibition in memory of Elena and all the children battling cancer.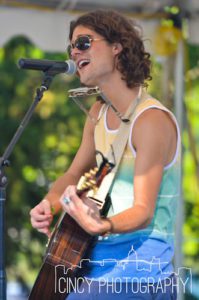 Click here to see more Cincinnati Beer Wine and Food Festival photos
Email us at [email protected] if you need photos for an upcoming event or have any questions.
Return to CincyPhotography.com