The Great Pumpkin Run 5K Cincinnati
Check out race photos from The Great Pumpkin Run 5K near Cincinnati Ohio. Let us know if interested in having event photos done for your next event.
Bonnybrook Farms is ideally located between Cincinnati and Dayton, just east of Kings Island. You will wind down gorgeous country roads, taking in all the Fall foliage along the way. Before you know it, Bonnybrook Farms picturesque front yard awaits you. You're here. You're ready for an epic adventure!
Included with The Great Pumpkin Run 5K Cincinnati
-Entry to the 5K run or walk
-All-new 1/4 zip tech hoodie, perfect for fall weather
-Bigger, better 2016 finisher's medal
-Commemorative bib
-Chip timing
-Apple cider
-Small pumpkin to take home
-Free professional race photos from Gameface Media
-Entry to the farm all day
-Free parking
What is The Great Pumpkin Run 5K Cincinnati?
In a nutshell: The Great Pumpkin Run celebrates everything that is great about fall with a healthy dose of physical activity!
What if I do not run?
We encourage people of all levels and abilities to come out and join us. The course itself is extremely scenic and fun. Whether you run it, walk it, or somewhere in between, you will have a great time. In fact, about 1/3 of last years participants walked!
Is it timed?
Of course! Although The Great Pumpkin Run is meant to be a fun, festive run, we will still provide state-of-the-art chip timing to each participant so you can see how you did. We can even text your time to you and your friends!
What do I receive with registration?
Each registered participant will gain entry into this awesome run/walk, the all-new 1/4 zip tech hoodie, 2016 finisher's medal, apple cider, commemorative bib with chip timing, a small pumpkin, and free race photos from Gameface Media!
Is there a limit to how many people can participate?
Yes. Each event has its own capacity. Register early to not only save money, but guarantee your spot!
I see there are different categories to choose when registering. Explain, please!
There are different wave starts. Basically, if you plan on running the entire time, select the first wave of the day. If you plan on jogging some of the time and maybe walking here and there, select the middle waves. If you plan on walking for the entire race, please choose the last option. This will help keep the flow of the race enjoyable for everyone!
Can I bring Fido?
Assuming Fido is your dog, unfortunately no. While we love dogs, they cannot come to the race.
Can kids come?
Absolutely! Kids can register to run or walk. No better way to develop a love for running! Plus, we even have youth sized hoodies.
How long is the course?
The Great Pumpkin Run is 3.1 miles (a 5K!)
Are strollers allowed?
We cannot allow strollers on the course. However, you are more than welcome to bring a stroller on the farm and have a friend or family member watch the stroller while you participate in the run.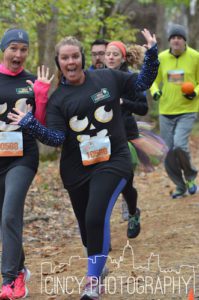 Click here to see more Great Pumpkin Run 5k photos
Email us at [email protected] if you need photos for an upcoming event or have any questions.
Return to CincyPhotography.com