GoPro Hero6 Black
There are several reasons why our customers choose our video camera sunglasses over the GoPro Hero6 Black.  The obvious and main reason is price. Our affordable cost is less than $150, while the GoPro Hero6 Black is currently around $400.  Another reason is how fast and instant you can start recording.  Our customers need to be able to start recording instantly so they dont miss any action.  We specially designed our glasses so even if your glasses arent even powered on, you simply click them once, and they automatically start recording!  When you are finished, all you do is click them again to stop video recording.  They will automatically shut down for you after period of time, or just hold down the button to power them off. No long menus to try to scroll through to start recording, just click and record instantly!
One of the biggest reasons why our video camera sunglasses are so popular with athletes,  is because you can wear them anywhere!  Our black stylish sunglasses you can wear everywhere you go even when you are not recording.  When you are using big bulky box shape cameras, bracketed to the side of your head, you just look goofy.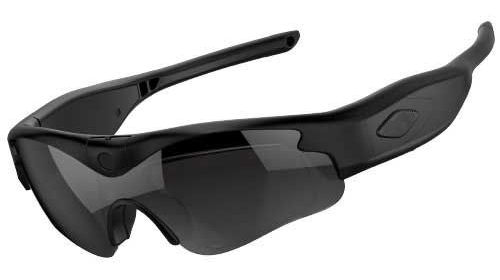 Why Our Sunglasses are the Best
There are several reasons why our high tech video camera glasses are the best on the market. We offer 60fps (frames per second) recording speed, which means you can record very fast action. Most of the video camera recording glasses you will see in stores only handle 20fps or 30fps at the most. Another reason is that our sunglasses feature 2 built in microphones which gives you realistic stereo sound for your videos. This makes it possible for you to hear different sounds coming from different directions.  One of our customers favorite features is also being able to connect their video glasses directly to their cell phones!
Very Fast 60fps Recording
Our video recording glasses are designed to capture the fastest sports action. 60fps is the fastest video recording speed you will find in sunglasses. No more using bulky box shape cameras, hassling with brackets and mounts. Now you can instantly slide your stylish sunglasses on and start recording. Almost all sunglasses you will find can only handle 20fps or 30fps. Recording that slow, is ok for slow walking speeds, but impossible for fast action, and will result in choppy video. As you can see in our sample video, our sunglasses can easily handle recording speeds over 80mph!
Built In Two Channel Realistic Microphones
Our customers love our latest feature, which is built in two channel microphones.  This allows you to have realistic stereo sound in all your videos.  You can now have videos with sound coming from different directions, making it feel like you are really there. This feature is especially nice if you are listening to the videos using microphones, which makes it feel like the sound is all around you.
WIFI Cell Phone Connection
Instantly view previews of your videos right through your cell phone!  Switch from 1080p to 720p, or change volume, white balance, color settings, etc. all through your cell phone.  With other sunglasses, you would have to wait to connect your glasses on a computer to make changes.  Our video sunglasses, you can make all these changes instantly so that your videos come out perfect, looking exactly how you want.  You can even hit record and stop buttons right through your cell phone as if it was a remote control!
ORDER TODAY – GET A FREE 16GB MICRO SD CARD!
If you order on our website today, we will also include a 16gb micro SD card absolutely FREE!  Store a huge amount of videos and thousands of photos right on your sunglasses.  Everything you need to get started is all included in the box.  Fast free same day shipping!
You will receive video camera sunglasses, 16GB micro SD card, transfer/charging USB cord, USB micro SD card reader, head strap, cleaning cloth and easy instruction manual all sealed in a hard carrying case!
Shoot HD video and capture stunning photos
8 megapixel CMOS sensor, 110 degree field of view
Video resolution – [email protected] and [email protected]
H.264 compression (quality) settings
2.2mm quality lenses, Z87.1 standard
Grilamid TR90TM frames
POV (point of view) function
Adjustable nose pads
3.7v lithium polymer 500mAh rechargeable battery
Realistic stereo audio with AAC2 channels, 2 microphones
Quality WIFI (certified), support iOS and Android system
Affordable Cincinnati Photography Prices
Many of our clients choose us because of how affordable and competitive our pricing is for the quality photos we offer. For portraits and headshots, prices start as low as $49, high school senior portraits $99 and wedding packages for only $499. Starting at $149 you can have professional photos for your next event, along with having it promoted in all major search engines and social media.
Wide Variety of Photo Services
What really makes CincyPhotography stand out from the rest, is our huge selection of different types of photos to choose from.  We offer professional photography services such as family portraits and senior photos, all the way to sports photography and real estate photos.  CincyPhotography offers all the standard photography, plus unique photos such as 3-D, 360 degree interactive videos and photos that most companies do not offer anywhere in the Cincinnati tri-state area.
Very Fast Service
One of the reasons why our customers give us repeat business, is because of the speed and turnaround time we offer. Many photographers can take weeks or even months to have photos ready for their customers, while we only take hours. After your photoshoot, your photos will be ready for download from our website within 24 hours or less. Along with getting digital downloads of your photos, we also give you the option to have your photos printed and mailed to you by our professional lab. Your 4 x 6 prints, posters, downloads and a huge selection of custom printed merchandise can all be found by clicking HERE.
Email us at [email protected] if you need photos for an upcoming event or have any questions.
Return to CincyPhotography.com