Danica Patrick NASCAR Driver
Photos of Danica Patrick NASCAR driver in Cincinnati Ohio. Let us know if you are interested in having professional photos for your next event.
Danica Sue Patrick (first name pronounced /ˈdænɪkə/; born March 25, 1982) is an American professional stock car racing driver, model, and advertising spokeswoman. She is the most successful woman in the history of American open-wheel racing—her win in the 2008 Indy Japan 300 is the only women's victory in an IndyCar Series race and her third place in the 2009 Indianapolis 500 is the highest finish there ever by a woman. She competed in the series from 2005 to 2011. In 2012, she competed in the NASCAR Nationwide Series and occasionally in the NASCAR Sprint Cup Series.
She currently competes full-time in the Monster Energy NASCAR Cup Series, driving the No. 10 Nature's Bakery Ford Fusion for Stewart-Haas Racing. In 2013, she became the first female NASCAR driver to win a NASCAR Sprint Cup Series pole, turning in the fastest qualifying lap since 1990—qualifying for the Daytona 500. Her eighth place in the 2013 Daytona 500 is the highest finish for a woman in the Daytona 500.
Patrick started in kart racing and later raced in Formula Ford in the United Kingdom before returning to the United States and moving up to IndyCars. She was named the Rookie of the Year for both the 2005 Indianapolis 500 and the 2005 IndyCar Series season. She holds the IRL record for most consecutive races running at the finish: as of October 2, 2011, she had completed 50 consecutive in the running (besting the record by 18). During her time in IndyCar, Patrick drove for Rahal Letterman Racing from 2005 to 2006, and Andretti Autosport from 2007 to 2011.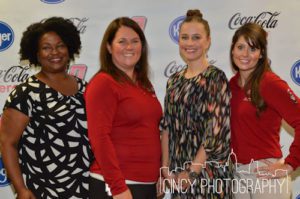 Click here to see more Cincinnati Danica Patrick NASCAR photos
Follow us on Social Media

Email us at [email protected] if you need photos for an upcoming event or have any questions.
Return to CincyPhotography.com