Cincinnati Ohio Mudathlon Photos
Check out all our Cincinnati Ohio Mudathlon photos by CincyPhotography. Let us know if you are interested in having professional photos done for your next event.
Did you ever think 3 Miles and 40 Obstacles would come out in the same breath? At Mudathlon, it is daily verbiage and we guarantee to bring you the most fun and muddiest adventure in the Midwest. Mudathlon is all about acting like a kid again because All the Big Kids are Doing It! From the costume contest to the Post-Race Party, and oh yeah, the 40 obstacles in between, you are sure to have a Mucking Good Time! On the course you will find a 100 yard long Mucking Mud Pit, thrilling Mud Slide, Cargo Net Climb, and Creek Crossing just to name a few. Mudathlon is an all inclusive price covering your parking, family/friends spectating, t-shirt, medal which always doubles as a bottle opener, Mudathlon bandana, Post-Race Cookout with smoking Johnsonville brats and one ice cold refreshing beer for registered participants over 21. What are you waiting for? Join Mudathlon in 2017 and check out our Cincinnati Ohio Mudathlon photos below!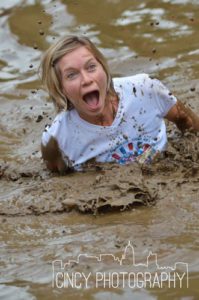 Click here to see more Cincinnati Mudathlon race photos
Affordable Cincinnati Photography Prices
Many of our clients choose us because of how affordable and competitive our pricing is for the quality photos we offer. For portraits and headshots, prices start as low as $49, high school senior portraits $99 and wedding packages for only $499. Starting at $149 you can have professional photos for your next event, along with having it promoted in all major search engines and social media.
Wide Variety of Photo Services
What really makes CincyPhotography stand out from the rest, is our huge selection of different types of photos to choose from.  We offer professional photography services such as family portraits and senior photos, all the way to sports photography and real estate photos.  CincyPhotography offers all the standard photography, plus unique photos such as 3-D, 360 degree interactive videos and photos that most companies do not offer anywhere in the Cincinnati tri-state area.
Very Fast Service
One of the reasons why our customers give us repeat business, is because of the speed and turnaround time we offer. Many photographers can take weeks or even months to have photos ready for their customers, while we only take hours. After your photoshoot, your photos will be ready for download from our website within 24 hours or less. Along with getting digital downloads of your photos, we also give you the option to have your photos printed and mailed to you by our professional lab. Your 4 x 6 prints, posters, downloads and a huge selection of custom printed merchandise can all be found by clicking HERE.
Follow us on Social Media

Email us at [email protected] if you need photos for an upcoming event or have any questions.
Return to CincyPhotography.com