Cincinnati Flying Pig Marathon Photos
Check out our Cincinnati Flying Pig Marathon photos and photography we do each year for the race located downtown. If you would like photos done for your next event let us know.
Cincinnati Marathon, Inc., is a nonprofit 501(c)3 organization formed to host a national event, the Cincinnati Flying Pig Marathon, which raises money for charities.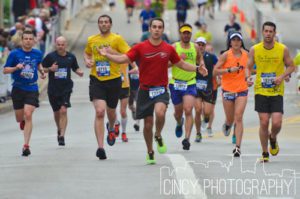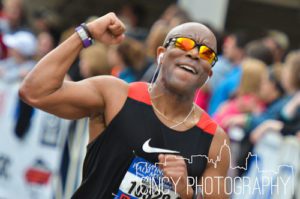 Cincinnati Flying Pig Marathon Mission
The mission of the Cincinnati Marathon, Inc., is to provide a premier event open to athletes of all abilities that is dedicated to supporting charities. The event should inspire community celebration and reward the emotions of all participants, sponsors, volunteers and spectators.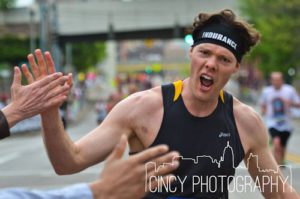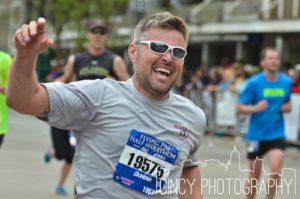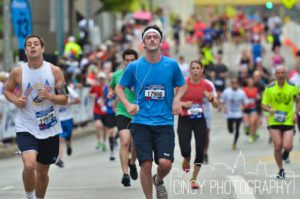 But Why a Pig?
In the 1800s, when riverboats plied the Ohio River, Cincinnati was a center of Western commerce. Since agriculture was a prime source of revenue in this area, boats filled with livestock and produce would dock in Cincinnati to sell their wares. Hogs were a major source of income for farmers here, as well, so pigs that were brought in by boat, or herded into town from area farms, were matched through the streets of Cincinnati to the processing plants. So many, in fact, that Cincinnati came to be known as "Porkopolis."
Fast forward to 1988, when Cincinnati celebrated its Bicentennial. To mark the occasion, the city decided to renovate its riverfront to include a "Bicentennial Commons" park. Noted designer Andrew Leicester was commissioned to design the commons, which was to reflect the city's past. When he submitted his plans, one signature feature caught everyone's attention: The entrance to Bicentennial Commons would be four smokestacks, for the city's riverboat heritage, with four flying pigs on top, reflecting, according to Leicester, the spirits of the pigs who gave their lives so the city could grow.
After much outcry among Cincinnati city council members, many of whom donned pig noses to debate whether the swine symbols would make the laughing stock of the country, the project was approved and the pigs became the signature sculpture of the new Cincinnati Riverfront. The pigs live on today at the entrance to Bicentennial Commons.
Click here to see more Cincinnati Flying Pig race photos
Cincinnati Flying Pig Marathon Videos
Cincinnati Flying Pig Marathon Video
Follow us on Social Media

Email us at [email protected] if you need photos for an upcoming event or have any questions.
Return to CincyPhotography.com