Cincinnati Bunbury Music Festival
Check out photos from the Cincinnati Bunbury Music Festival by CincyPhotography. Let us know if you are interested in having professional photos done for your next event.
PromoWest Productions, a top-ranked independent concert promoter by Pollstar Magazine, purchased Bunbury Music Festival in Cincinnati, Ohio in late 2014.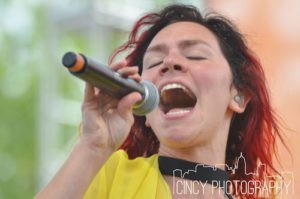 The purchase adds to PromoWest's existing portfolio of concert venues including EXPRESS LIVE!, Newport Music Hall, The Basement and A&R Music Bar in Columbus, Ohio and Stage AE in Pittsburgh, PA. "We are excited to expand into the Cincinnati market. We have strong relationships with the bands that play Bunbury as they play our venues throughout the year," said Scott Stienecker, president and CEO of PromoWest Productions. PromoWest will handle all booking, marketing, sponsorship and production of the festivals and Bill Donabedian will continue to oversee operations.
In past years, Bunbury Music Festival, which takes place along the Ohio River in downtown Cincinnati throughout Sawyer Point and Yeatman's Cove, has hosted top alternative artists including Flaming Lips, MGMT, Fall Out Boy, FUN. and more. PromoWest, known for its creative design of intimate concert venues in Columbus and Pittsburgh, has modified the festival layout to provide fans with a more intimate concert experience. The festival, previously having one main stage and five smaller stages, will now feature two main stages and two side stages for better viewing and easier logistical flow for festival goers. Bunbury Music Festival will take place June 2-4, 2017.
PromoWest Productions, having just celebrated its 30-year anniversary in 2014, currently offers Columbus, Ohio, over 450 events a year at its venues EXPRESS LIVE!, Newport Music Hall, The Basement and A&R Music Bar. PromoWest opened the country's second indoor/outdoor concert venue, Stage AE, in downtown Pittsburgh in 2010.
Click here to see more photos of the Cincinnati Bunbury Festival
Cincinnati Bunbury Festival Videos
Lindsey Stirling Live Crystalize Video
Follow us on Social Media

Email us at [email protected] if you need photos for an upcoming event or have any questions.
Return to CincyPhotography.com